The Blues forward was the best player on the pitch once again on a big stage despite only coming on for a half-hour against Tottenham
Eden Hazard is the man who crushes Tottenham's dreams of glory. His sensational off-the-bench proved decisive for Chelsea as he provided a goal and an assist to send his side to the FA Cup final at Spurs' expense.
Hazard's 75th-minute goal was yet another example of the Belgian's ability to conjure up something out of nothing. Found free at the edge of the box from a corner, his shot to beat Hugo Lloris was laser-guided.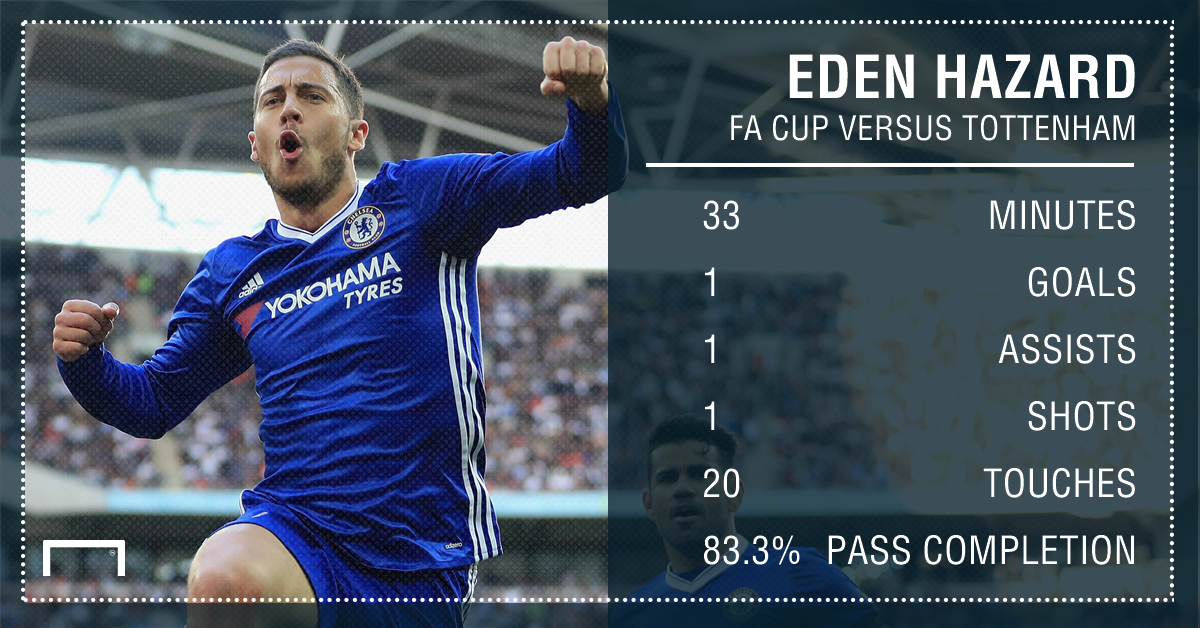 It was a massive goal for Chelsea, who were beginning to bend under Tottenham's pressure after Mauricio Pochettino had reversed the odd decision to deploy the in-form Son Heung-Min in an awkward wing-back role.
Willian was hauled off despite his two goals in the first half to make way for Hazard, and while the move was harsh on the Brazil international there is no doubt who Chelsea's player is.
He is the best player in England, in fact. Harry Kane had equalised for Tottenham in the first half and Dele Alli looked to have sparked Spurs' ascent into superiority by making it 2-2 a few minutes after the break, but Hazard was to own the day.
Unlike Willian, Batshuayi did little to lay a marker down for a starting place despite Costa's run of seven games without a goal. The striker's start was his first since January but he looked rusty, a couple of good touches aside.
Costa was also ineffective, though, leaving Hazard as the man to find the moment Conte's team needed. As the season nears its end, he is really stepping up. If not for him, we may now be on course for a Tottenham double.
Hazard went on to cap off his short display with an assist on Nemanja Matic's fourth goal, with the Serbian firing in one of the most powerful strikes seen this season to secure victory.
Spurs fans must have dreaded seeing Hazard come on, as he was the man who killed their Premier League title hopes at Stamford Bridge last season. The 2-2 draw was dubbed the battle of Stamford Bridge but if the winger's curling strike on that night is no longer burned in the minds of Tottenham fans, it is only because his latest effort has replaced it.
The 26-year-old's five goals against Spurs are more than he has scored against any other English club, and his display will have been noted by those watching in Madrid. Hazard looks committed to Chelsea's cause, though, and there is no better statement of that than a performance like this in a London derby at Wembley.